Il trucco di oggi è molto semplice,adatto anche alle meno esperte e realizzato con il tris di ombretti che vedete qui sotto:ho steso il bianco sotto le sopracciglia,l'azzurro nella piega palpebrale e il blu scuro sulla palpebra mobile e sotto l'occhio.
Super-easy makeup,made with the e/s set below:white under the brows,azure in the crease,blu on the lid and under the eye.
Il tocco in più di questo look è l'eyeliner glitterato,mi piace molto come risalta sullo sfondo scuro!Ho usato un eyeliner della essence,simile a questo ma azzurro.... il colore si chiama "Beach party".Ne ho stese diverse passate sopra l'occhio per avere una bella linea piena di glitter,e sotto l'occhio appena una passata per dare luce senza esagerare ;) Ho completato con una generosa passata di mascara!
To give a special touch to this look,i added a glitter eyeliner from Essence,like this in the picture but in the "Beach party" color.I love how it pops out on the dark color!I used 2/3 layers above the eye,to have a glitter-filled line,and just a quick passage below,i did not mean to go over the top ;) I finished the look with a generous amount of mascara!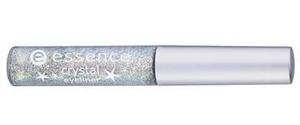 La Essence è una marca di cosmetici, tedesca ed economica, che ho intenzione di recensire approfonditamente in futuro,gira e rigira ho provato diversi loro prodotti e mi ci sono trovata niente male!Potete dare intanto un occhio al loro sito cliccando QUA
Essence is a german,affordable cosmetic brand which i am going to review extensively v.soon,as i found myself trying several of their products here and there,and they're not bad at all!You can take a peek at their site clicking HERE